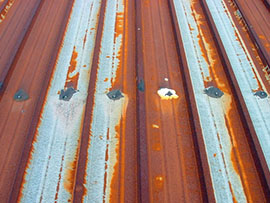 Many qualities make metal roofs an attractive choice for commercial building owners, including their strength and durability. But like any other roof type, a metal roof is not infallible and will develop problems over time. When that happens, you can count on Woolbright's Roofing & Construction for effective metal roof repair! Perris, CA, customers and our clients in other areas of Southern California have come to trust the Woolbright's name for a variety of reasons:
We have been in business more than 30 years.
We are fully licensed, bonded and insured.
We are an A+ top-rated company with the Better Business Bureau.
We offer extended roof warranties.
We provided detailed roof reports with photos and clear, concise renderings.
Call us today at (951) 609-1818 to schedule a free professional roofing assessment. We will send one of our knowledgeable technicians to your location to conduct an in-depth inspection of your roof, pinpointing any problems and any developing issues. We will then provide you with an accurate assessment of the work that needs to be done and offer the very best available solutions.
Common Metal Roof Problems
Like any roof, a metal roof needs routine inspections and proper maintenance to live out the full duration of its intended lifespan. Metal roofs are meant to last many years—but if you don't take proper care of them, they won't.
Why Choose Us
30+ years' experience
Fully licensed & insured
Complete roofing solutions
Superior knowledge & expertise
Family owned & operated
There are various common factors that can cause metal roof damage, necessitating the services of a professional roofing contractor. They include:
Rust
Weather damage
UV damage
Roof movement stress
Entrapped moisture
Call on the experts at Woolbright's Roofing & Construction to inspect your metal roof and make sure no problems are developing. Remember: An ounce of prevention is worth a pound of cure. Today's small roofing issue can become tomorrow's huge roofing problem if it isn't caught early and attended to.
Lifetime Service Guarantee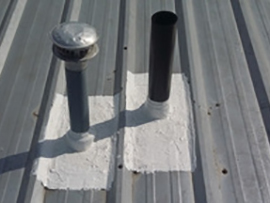 As previously mentioned, there are a lot of good reasons to make Woolbright's Roofing & Construction your go-to choice for roofing needs big and small—and here is one more. We are an endorsed member of Choice Roof Contractor Group, which is a trusted, nationwide association of roofing professionals. Because we belong to CRCG, our clients have the benefit of the CRCG's Lifetime Service Guarantee.
No matter what may happen to us 10, 20 or 30 years down the road, our customers can count on repair services being available to them for any guaranteed roofing work we have performed. If we aren't available to do the work, another CRCG member will!
A lifetime service guarantee is a rare benefit in the roofing industry, and it's just another way we strive to give our customers the very best service!
Metal Roof Estimate
For all your metal roof repair needs, you can rely on Woolbright's Roofing & Construction for a job well done! Call us today at (951) 609-1818 to schedule a free professional roof assessment with one of our expert technicians.