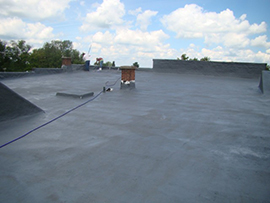 Have you been looking for a dependable commercial roofing company to address you flat roof replacement? If you are in Menifee, California you are in luck! Woolbright's Roofing and Construction is a full service roofing company that would enjoy the opportunity of assisting you with all your flat roof needs.
Woolbright's Roofing and Construction is a family owned and operated business that thrives on providing one of a kind customer service and unmatched quality workmanship to all of our clients. We aim to build lasting business relationships, and know that can only happen if our team continues to excel at all things commercial roofing.
Time for a New Flat Roof?
Flat roofs are a popular choice for commercial buildings but they do have their fair share of roofing issues. We have compiled a list of signs to watch for to better help you determine if it is time to have your flat roof replaced. A few signs are:
Why Choose Us
30+ years' experience
Fully licensed & insured
Complete roofing solutions
Superior knowledge & expertise
Family owned & operated
Cracking
Leaking
Advanced age
Damaging weather
Tearing
Ponding water
And so much more
If you notice anything that looks out of the ordinary or you are experiencing any of these issues, call us today. Don't wait until that tear or tiny leak ends up damaging your building. If you are located in the Menifee, California area, you can count on Woolbrigt's Roofing and Construction to get your flat roof taken care of quickly and correctly.
Roof Coating
Many times flat roofing units are replaced prematurely. Don't fall into that trap! Call us today so we can inspect your commercial flat roof to better determine if you could benefit from our roof coating system. There are several advantages that come with a roof coating and a few examples are: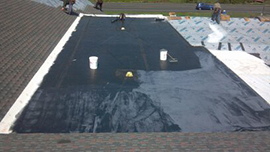 Non-prorated warranty
Can be recoated for longer life
Lowers annual A/C costs by as much as 30%
Reflects up to 85% of harmful UV rays
Economically friendly
No disruptive tear off procedures
If your commercial flat roof is located in Menifee, California call us today at (951) 609-1818 so we can discuss the extensive list of benefits that come with a roof coating system.
Get an Estimate Today
Call us today at (951) 609-1818 and we will schedule a time for our technician to properly inspect your roofing asset. After which, you will be presented with a detailed report listing the current condition of your commercial flat roof and will discuss the solutions available to it. Don't hesitate – a small leak can damage your commercial building in no time if left unattended.
If you are in the Menifee, California area, call us today at (951) 609-1818 and we'll get your flat roof back on track!
We look forward to hearing from you.