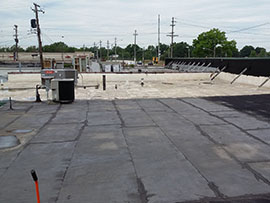 Many business owners opt for flat roofs for their industrial and commercial buildings. Flat roofs have many benefits, but are also prone to a number of problems. When trouble arises, and you need your flat roof repaired in Temecula, California, or the surrounding area, you can count on Woolbright's Roofing and Construction, Inc. Our friendly, experienced team members are waiting for your call at 951-609-1818!
Finding a hidden problem in a flat roof requires the expert eye of an experienced and trained professional – the kind you find at a high-quality roofing company like Woolbright's Roofing and Construction. Give us a call, we will come to your business and inspect and evaluate your roof at no charge.  Our team is here to find the problem spots today to save you money in the future.
A Little Bit of Prevention
A poorly maintained commercial roof may only last half as long as one that is well taken care of.  If your roof fails, replacing the entire roof is expensive! It's estimated that $1 billion is spent every year by commercial facility owners on premature roof replacements. Regular maintenance and inspections can keep your roof in tip-top shape for years to come.
Quality You Can Trust
Woolbright's Roofing & Construction offers a full range of commercial roofing services including repair, restoration, installation, and replacement services for a wide variety of roofs.  The most common issues we see with flat roofs include: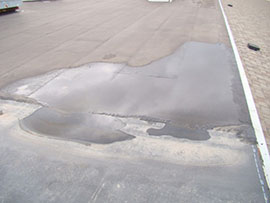 Trapped Debris
Tears & Punctures
Cracking
Trapped Moisture
Blow-Offs
Ponding Water
Leaks
Torn Membrane
Membrane Shrinkage
If you have noticed one of these issues, or anything else out of the ordinary, it's time to call in the professionals.  With more than 30 years of experience, state of the art equipment and tools, we have what it takes to provide you with the highest level of efficiency and workmanship. Woolbrights Roofing and Construction brings these assets to every job:
Why Choose Us
30+ years' experience
Fully licensed & insured
Complete roofing solutions
Superior knowledge & expertise
Family owned & operated
30+ years' experience
Licensed and insured
Certified technicians
Efficient, timely job completion with minimal disruption to clients' business operations
Energy-efficient solutions
Comprehensive commercial and industrial roofing solutions
If you are in need of commercial flat roof repair in Temecula, California, or the surrounding area, give us a call today at 951-609-1818.  We look forward to working with you.