Has summer's heat damaged your rubber roof? Is your roof starting to show its age? If so, look to the experts at Woolbright's Roofing & Construction!
If you are in need of rubber roof repair in Temecula, California, or the surrounding area, give Woolbright's a call today at 951-609-1818!
Protect Your Assets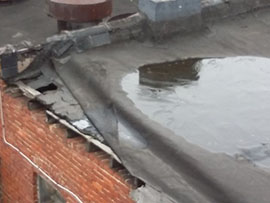 As the owner of a commercial or industrial building, you know that rubber roofs represent a substantial investment for your company. Your roof protects your business's most valuable assets. Without regular inspections and maintenance, roofs can degrade over time and put the integrity of a building's entire structure at risk. Commercial and industrial rubber roofs take a beating and need regular care from a qualified professional in order to get the most out of this major asset. Don't take any chances, call Woolbright's at 951-609-1818 to schedule a no-obligation inspection at no charge.
Repair or Replace?
Why Choose Us
30+ years' experience
Fully licensed & insured
Complete roofing solutions
Superior knowledge & expertise
Family owned & operated
While no one wants to have to replace a commercial or industrial roof, sometimes that is needed. However, you can postpone replacement – or even avoid it completely by taking proper care of your rubber roof. Frequent inspections and prompt repairs can significantly extend the life of your roof.
Rubber roofs are a great option for commercial and industrial buildings. They have a long lifespan and are easy to install. However, they have their own particular set of problems. Besides regular inspections, building owners should also be on the lookout for damage. Tears, blisters, ponding water, UV damage, bubbles, cracks, leaks and storm damage are all warning signs for rubber roofs and mean you should call a professional ASAP.
A Trusted Professional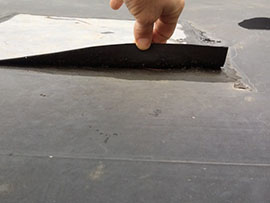 Woolbright's has more than 30 years of experience. We always use state of the art equipment and tools and we have what it takes to provide you with the highest level of service and workmanship. Woolbright's is a family owned and operated commercial roofing serving Temecula, California, and the surrounding communities with quality commercial roofing services including repairs, replacements, coatings and so much more. Call us to learn about the many ways we can improve your roofing system. You can reach us at 951-609-1818.
We bring these assets to every job:
30+ years in business
Licensed and insured
Certified technicians
Efficient, timely job completion with minimal disruption to clients' business operations
Energy-efficient solutions
Comprehensive commercial and industrial roofing solutions
If you are in need of rubber roof repair in Temecula, California, or the surrounding area, you can count on Woolbright's Roofing & Construction, Inc. Our friendly and knowledgeable team members are waiting for your call at 951-609-1818!