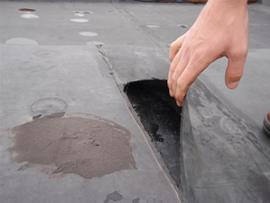 The use of EPDM (ethylene propylene diene monomer) roofing, commonly known as rubber roofing, is a common choice for commercial and industrial buildings, as it is known to be robust and long-lasting. But though it is tough, rubber roofing is not indestructible and will eventually develop problems. When that happens and you find yourself in need of rubber roof repair in the Perris, CA, area, call on the team at Woolbright's Roofing & Construction. We have more than 30 years of roofing expertise and a long list of satisfied customers. Are you ready to become one of them?
Give us a call today at (951) 609-1818 to schedule a free professional roofing assessment. One of our expert technicians will visit your location and conduct an in-depth inspection of your roof, pinpointing any problems and any developing issues and providing you with an accurate assessment of the work that needs to be done.
We work hard to do every job right and to bring new life to your commercial roof!
Common Rubber Roof Problems
Like any roof, a rubber roof will eventually develop issues as time passes and as nature's elements work their mischief, and this requires the attention of an expert to repair the problems before they develop into bigger issues. It is also crucial that a rubber roof is installed by an expert to begin with; if the work is done by an inexperienced contractor, that fact alone will likely lead significant problems down the road.
There are various factors that can lead to damage on a rubber roof, such as:
Why Choose Us
30+ years' experience
Fully licensed & insured
Complete roofing solutions
Superior knowledge & expertise
Family owned & operated
Improper installation
Previous repairs that were not code-compliant
Ponding water
UV damage
Cracks, blisters and bubbles
Loose bonds
Membrane shrinkage
Membrane uplift
Trapped moisture
Poor roof drainage
Aging and weathering
Dirt accumulation beneath the membrane
And more
Some roof problems are easily seen, while others require the trained eye of an expert to be identified. Your roof is a huge financial investment—don't leave it to chance. Call on the professionals at Woolbright's Roofing & Construction for roof inspections, maintenance, repairs and, when the time comes, replacement. We have the expertise and quality tools to get the job done right, every time!
Service for Life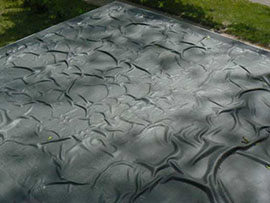 Among the many inherent benefits of working with Woolbright's Roofing, we offer something most roofing contractors don't: a lifetime service guarantee.
Because we are an endorsed member of Choice Roof Contractor Group, a nationwide association of trusted roofing companies, we are able to offer that association's Lifetime Service Guarantee. While we certainly have no plans to close our doors after more than 30 years in business, if the unthinkable should happen someday and we were no longer around to service our customers, they would not be left alone.
The Choice Roof Contractor Group lifetime service guarantee is just that—a guarantee of service no matter what. If a problem arises after we've performed guaranteed work and we can't attend to it, another CRCG member will! So you never have to worry that your contractor won't be around 10, 20, 30 years from now to fix a roofing problem—you'll always have the help you need!
Schedule a Rubber Roof Estimate
As you can see, the Woolbright's Roofing & Construction team is a dependable choice for clients in Perris, CA, and the surrounding areas. Give us a call today at (951) 609-1818 to find out more about the services we provide and to schedule your free, no-obligation professional roof assessment. From installation to replacement and beyond, we are here for the long haul to attend to all your roofing needs!