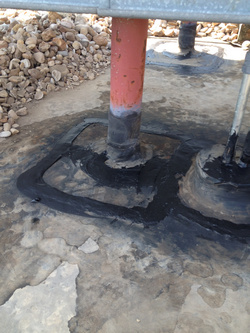 Does your facility have a rubber roof with leaks or other problems? Call the professionals at Woolbright's Roofing & Construction. Over 30+ years of business, we have helped many building owners and managers resolve their roofing problems and extend the lifespan of their roofing asset. Once we have evaluated and determined your roof's issues, our dedicated repair specialists will fix them with proven, industry-leading materials & techniques.
According to industry data, 25% of all roofing dollars go toward unplanned repairs. If roofing problems are neglected over time, they can snowball into far more costly capital expenditures. You do not have to let this happen to your EPDM rubber roof. Call us today at (951) 609-1818, and we will be glad to discuss how we can ensure your facility is well-secured once more.
Rubber Roof Repair Causes
EPDM roofing (known more colloquially as "rubber roofing") is a mainstream selection in the single-ply roofing market. It offers notable durability and puncture resistance over time. However, as the years pass by, rubber roofing can experience a number of defects, which can reduce its performance value:
Why Choose Us
30+ years' experience
Fully licensed & insured
Complete roofing solutions
Superior knowledge & expertise
Family owned & operated
Ponding water
Membrane shrinkage
Storm damage
Punctures from vehicles like falling sharp instruments
Entrapped dirt or debris
Loose bonds or adhesives
Condensation under roof covering
Cumulative weathering or aging
If your rubber roof struggles with one of these issues or something else, call us! Put Woolbright Roofing & Construction's 30+ years' expertise to work for you — we will take a careful, comprehensive approach to meet your repair needs fully.
Roof Repair Specialists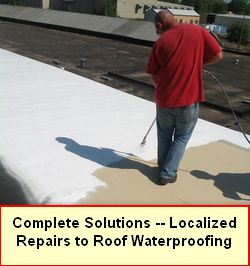 Our commercial roofing company will ensure your repair project goes as efficiently as possible, while posing minimal disruptions. Over the years, Woolbright's Roofing & Construction has built a strong reputation for customer satisfaction and expert workmanship. Our company technicians, applicators, and personnel are known for their professionalism, precision, and comprehensive eye for detail.
When you work with our team, we do not cut corners. Woolbright's Roofing & Construction takes painstaking steps to identify your roof's exact problems, help you determine the best solution, and then fix these issues. Our repair processes, combined with our annual roof maintenance plans, will keep your roof performing according to strong service standards in the years ahead, and will help save money. Call us for more information!
Rubber Roof Repair Services
If you have any questions or inquiries, please do not hesitate to address them to our staff. You can count on our strong knowledge, resources, and expertise for the solutions you need. Do not let lingering repair needs grow into costly expenses or your roof deteriorate beyond the point of recovery. Let Woolbright's Roofing & Construction help you save money!
Call us today at (951) 609-1818, and we would be glad to be of service. Our team looks forward to the possibility of earning your business!