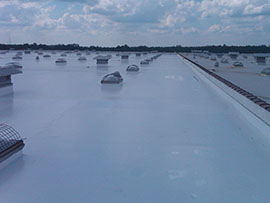 Do you have a commercial building with a rubber roof in Menifee, California? If so and you are in need of our exceptional rubber roof repair services, give us a call today at (951) 609-1818. We will inspect your roof and come up with a specialized plan to get your roof repaired and back on track.
Here at Woolbright's Roofing and Construction we have been repairing, replacing, coating, inspecting and maintaining commercial roofing units for over 30 Years. Let us show you why we are number one in our industry and unmatched in the customer service we provide our valued clients. We are the rubber roof repair experts and would love to provide you with a quality roof inspection and repair estimate.
Common Rubber Roof Issues
Rubber roofing units are a common choice for commercial building owners because they are typically easier to install and function well for years. Unfortunately, without proper maintenance they do share some common issues. We have compiled a list of typical rubber roofing warning signs to better help you determine if you are need of a roofing professional. They are as follows:
Why Choose Us
30+ years' experience
Fully licensed & insured
Complete roofing solutions
Superior knowledge & expertise
Family owned & operated
Tears or blisters
Debris trapped under membrane
Storm damage
Leaking
Advanced age
Look for anything that is out of the ordinary or impacting the functionality of your roof. Each roofing asset is unique and requires a specialized approach to treat it. Don't trust just anyone with your roof, call the rubber roof repair experts at Woolbright's Roofing and Construction today. You can reach us at (951) 609-1818. We look forward to hearing from you.
Roof Coating
If you are interested in a way to extend the life of your existing rubber roof and cut down on repair costs, a roof coating might be just what you're looking for. Also known as our roof restoration system, this is an economical way to refresh your roof without a total roof replacement. This system comes with many benefits. A few prime advantages are: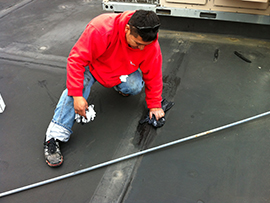 Lowers annual energy costs by as much as 30%
ENERGY STAR ® certified
Reflects up to 85% of harmful UV rays
No pricey, disruptive tear off procedures
No landfill fees
Can be recoated for longer life
Non-prorated warranties available
As you can see there are several benefits involved in a roof coating. If you have a commercial building located in Menifee, California give us a call today at (951) 609-1818 so we can discuss why roof coatings are an up and coming roofing solution for commercial building owners.
Rubber Roof Repair Estimate
If your rubber roof is needing serviced and is in Menifee, California you are in luck! Woolbright's Roofing and Construction would be happy to provide you with a no-obligation rubber roof repair estimate. Call us today at (951) 609-1818 so we can be of assistance. Don't wait until those minor leaks add up and cause more damage down the road. Let us get your roof repaired quickly and correctly before any additional damage is done to the rest of your building.
We thank you for the opportunity of earning your business.