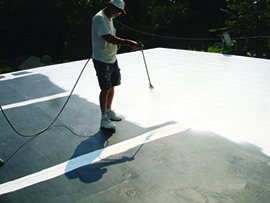 How is your rubber roof holding up? If you have noticed a few leaks or maybe a couple tears in your membrane, don't hesitate to contact Woolbright's Roofing and Construction. Let our team of dedicated technicians provide your Hemet, California structure with supreme rubber roof repair services.
We are a family owned and operated commercial roofing contractor that has an impressive 30+ years of serving Hemet, California and the surrounding communities with quality commercial roofing services including repairs, replacements, coatings and so much more. Call us to learn about the many ways we can improve your roofing system. You can reach us at (951) 609-1818.
Why is EPDM So Popular?
There are quite a few reasons that EPDM, more commonly known as rubber roofing, is so popular with commercial and industrial buildings. We put together a quick list to showcase some of the more sought after characteristics of EPDM roofing systems.
Why Choose Us
30+ years' experience
Fully licensed & insured
Complete roofing solutions
Superior knowledge & expertise
Family owned & operated
Great for large and small roofing projects
Long-lasting
Durable
Excellent for new construction
Can be treated with a coating for longer life
Cost effective
Simple to repair
Typically, lower maintenance costs
These are just a few of the more prominent features of a commercial rubber roof. Let the Woolbright's Roofing and Construction team provide you with a worry-free rubber roof with our high-quality commercial roofing repair services.
Proven Rubber Roof Repair Services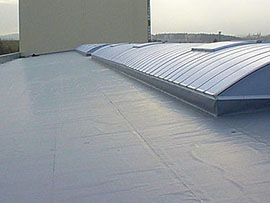 After an all-points roof evaluation, our commercial roofing technician will discuss your long-term roofing goals and any necessary repairs to ensure the continued success of your roof. Once, you understand and approve the required repairs, our team will perform them as soon as possible. We will work around your schedule to ensure your daily business practices are not interfered with.
To schedule an appointment for a roof inspection, call us today at (951) 609-1818.
Rubber Roof Repair Estimate
If you are interested in a rubber roof repair estimate for your Hemet, California property, please contact Woolbright's Roofing and Construction today. We would be happy to evaluate your roof and find the most cost effective repair solutions. You can reach us at (951) 609-1818.
If your rubber roof has seen better days, we hope to hear from you.