This residential roof in Lake Elsinore, CA was suffering from lack of maintenance.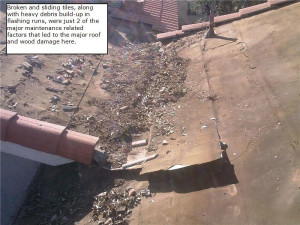 Broken and sliding tiles were left uncorrected, missing tiles were left un-replaced, pipe collars were left unsealed, and heavy debris was allowed to build up in the flashing channels for many years.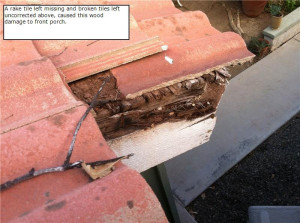 This left open voids and created dammed-up flashing runs, allowing water to run under the tiles and onto the felt, instead of back on top of tiles or off the roof.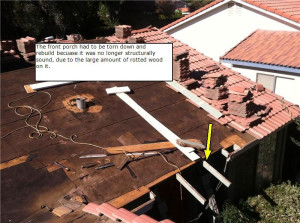 The felt deteriorated, causing major leaks, which then led to wood rot as seen in the pictures.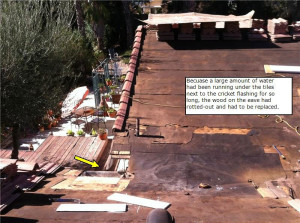 A large percentage of home owners are unaware that their roofs require yearly maintenance, and these major repairs could have been avoid if yearly maintenance was performed on this roof. As our recent tile repair job in Murrieta showed, all it takes is one little broken tile to cause leaks in the roof.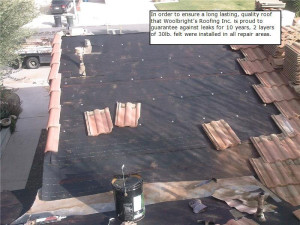 At Woolbright's Roofing & Construction, we work on both commercial and residential roofing repair projects. Our recent duro-last roof construction in Ontario is an example of a large commercial roof project.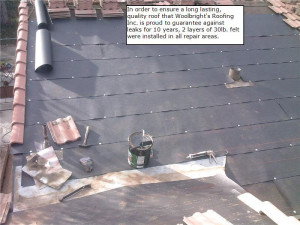 Our roofs are guaranteed against leaks for 10 years. We use 2 layers of 30 pound felt over all areas of the roof. If there are any issues, we will come out and get the job fixed at no charge to you.

The front porch was re-built and painted to match the original. Like with our Menifee project, we build much more than just roofs.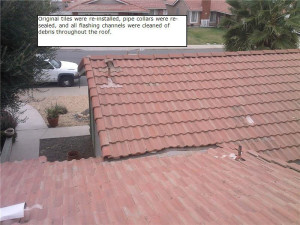 Here is the final picture showing the finished result.
We work hard to provide the highest quality of service for our clients. Get a free estimate by getting in contact with us and we will discuss your options over the phone. We serve all areas in Southern California including San Bernardino, Riverside, Orange, San Diego and Los Angeles.
Woolbright's Roofing & Construction, Inc.
20831 Silktassel Court
Wildomar, CA 92595 USA
Tel. (951) 609-1818