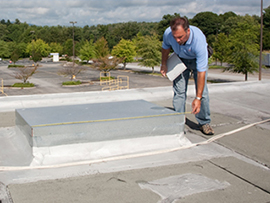 As a business owner, when it comes to your roof does the thought "if it's not broke, why fix it?" come to mind?  If so, listen up.  It doesn't matter what type of system you have on your commercial building, at some point it will need repairs.  You probably picked the roof system that you thought had the best quality materials, long-lasting lifespan, and worry-free maintenance.  After all, you don't want to keep messing with a pesky roof, but did you know that without routine maintenance, your commercial roof might not be performing at its best?
Here at Woolbright's Roofing and Construction we have been providing commercial business owners with quality roof inspections for over 20 years!  We are recognized as being a full-scale commercial roofing contractor serving the Southern California region and are known for our roof maintenance services.  If you have a facility in need of a roof inspection in Perris, California or the surrounding area, don't hesitate to call us at 951-609-1818.  Our friendly staff will be happy to help get your roof inspected quickly and correctly.
Roof Maintenance Guidelines
Why Choose Us
30+ years' experience
Fully licensed & insured
Complete roofing solutions
Superior knowledge & expertise
Family owned & operated
As a commercial building owner, you might not know that industry studies suggest having your roof inspected at least twice a year.  It's suggested inspecting your asset in spring and in fall – after the harsh cold of winter and the blistering summers.  It's also suggested to inspect your roof after major weather events such as hail, high winds, tornados, snow storms, and downpours.  This is to ensure your roof is fully functioning after Mother Nature throws at it her best.
When you partner with Woolbright's Roofing and Construction for your maintenance needs, you know you're in good hands.  Our family owned business has highly trained technicians to spot even the tiniest of defects and fix them before they can become a large headache.  We also have a top ranking with the BBB – an A+!  You can't get any better than that!  Call us today at 951-609-1818 to get your commercial roof on a regular maintenance program.
More than Just Maintenance
Our goal at Woolbright's Roofing and Construction is to be your go-to roofing contractor.  To ensure we are your number one choice, we have trained our technicians in the latest techniques for the following roof types:
Metal
EPDM Rubber
TPO
PVC
Modified Bitumen
Gravel
Cement
Foam
Asphalt
And more!
Let the Woolbright team safeguard the longevity of your commercial roof.  Call today for a no obligation inspection at 951-609-1818.