How long has it been since you have had your commercial roofing asset inspected? If you are in Menifee, California call us today at (951) 609-1818. We provide unmatched quality workmanship and exceptional customer service to all of our valued customers.
Woolbright's Roofing and Construction is a family owned and operated business that has been serving the beautiful state of California since 1988. Let us show you why so many others have trusted us over the years to address all of their commercial roofing needs. We look forward to hearing from you!
Routine Roof Inspection Benefits
When a roof is not properly maintained it can cut is lifespan by as much as 33.3%-50% according to industry statistics. Don't let your costly investment go to waste call the service professionals at Woolbright's Roofing and Construction today. There are many advantages that come with having your roof on a routine inspection plan. A few prime examples are:
Why Choose Us
30+ years' experience
Fully licensed & insured
Complete roofing solutions
Superior knowledge & expertise
Family owned & operated
Stabilizes liability costs
No surprise repairs
Helps to extend the life of your roofing asset
Assists with insurance claims
Detailed reports on roof condition
And so much more
A routine roof inspection program is something that all commercial roofing units could benefit from. If these advantages sound appealing to you and you are located in the Menifee, California area, give us a call today at (951) 609-1818. We look forward to your call.
Why Woolbright's Roofing and Construction?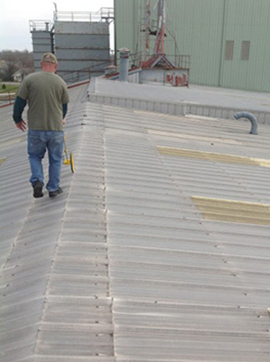 With all of the commercial roofing companies around how do you know you are choosing the right company for your business? We are a company that was founded on integrity and hard work. We will consistently exceed your expectations. A few notes about us are:
Family owned and operated
Established business since 1988
Licensed and insured
Professionally trained
The list goes on and on!
Our team shares a common goal of providing a level of workmanship that is rare in our industry. We take pride in our work and will always stand behind the services we provide.
Roof Evaluation
If you are interested in having your commercial roofing unit inspected and are located in Menifee, California, call us today at (951) 609-1818. We will provide you with a detailed report listing the current condition of your commercial roof and a list of viable solutions to repair it. Let us help to ensure the longest life possible for your commercial roof.
We look forward to the opportunity of earning your business.