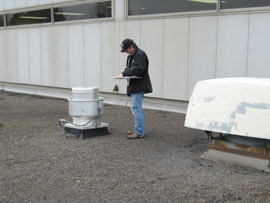 If most commercial building owners knew about the unnoticeable damage and deterioration that could be addressed and prevented via a roof inspection program, the roofing industry would be out of business! A simple inspection scheduled throughout the year with Woolbright's Roofing & Construction could save you tons of money. If it has been quite awhile since you're last commercial roof inspection, call us today if you are based in the Hemet, California area. You can reach us at (951) 609-1818. For all of our customers, we pour our heart and soul into making such they are completely satisfied with our work.
Since Woolbright's Roofing and Construction was founded, the company has been family-owned since 1988. Let us welcome you into the Woolbright family today!
Schedule Roof Inspection Plans and Why You Need One
Why Choose Us
30+ years' experience
Fully licensed & insured
Complete roofing solutions
Superior knowledge & expertise
Family owned & operated
Your roof is probably the most valuable asset your commercial business has. It protects your employees, your inventory, and the inside of your building from the harshness of the elements. It is only logical that you should be doing as much as you can to extend your roof's lifespan. That's why when a roof is neglected or not properly taken care of, it can reduce its lifespan up to 33.3%-50% according to industry studies. Preserve your roofing investment with the experts at Woolbright's Roofing and Construction today. Here are a few of the benefits of having your roof on a routine inspection plan:
Balances out liability costs
Clear and transparent with what repairs need to be done
Extends the lifespan of your roof investment
Assists with insurance claims
Detailed reports on roof condition
And many more advantages!
If you want to stop paying for continuous repairs to your roof and start preserving your roof, our routine roof inspection programs are the way to go for any commercial roofing asset. If you're located in the Hemet, California region, call us today at (951) 609-1818. We are ready to work with you.
We're More Than Just A Contractor; We're Family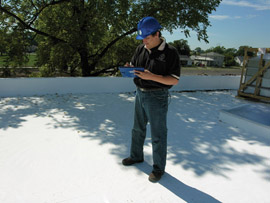 When it comes to choosing the contractor for your job, it is hard to distinguish who is good or bad for your project. Here at Woolbright's Roofing and Construction our core values are based on directing our focus to the customer always. Your satisfaction is the daily goal we strive for and we will try to exceed your expectations. Some reasons why Woolbright's should be at the top of your list are:
Family owned and operated
Founded in 1988
Licensed and insured
Professionally trained
And more!
We are one team that works day after day to ensure we are offering the highest level of craftsmanship and care for all of our customers. This is why we are proud of the service we do and will always support it.
If you want to change your roof's performance forever and are located in the Hemet, California area, contact us today at (951) 609-1818. We want to help you get the longest lifespan out of your commercial roof.