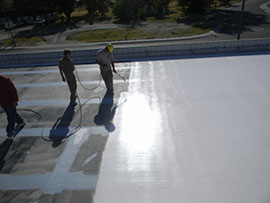 If you own a commercial or industrial building, you understand the need to protect your company's bottom line. When it comes to your roof – one of your biggest investments – you know that replacing the whole roof is a costly and disruptive event. But there's no need to worry because there is an alternative – a high-quality roof coating that can extend the lifespan of your roof by many years.
If you are in need of a roof coating in Temecula, California, or the surrounding area, you can count on Woolbright's Roofing & Construction, Inc. Our friendly and knowledgeable team members are waiting for your call at 951-609-1818!  We will inspect your roofing asset and let you know if a roof replacement is necessary or let you know if you can benefit from a seamless roof coating.
Roof Coatings Can Save You Big-time!
Having a roof coating system installed can save you the hassle and expense of a full roof replacement. Commercial roof coatings have many advantages for a business owner including:
Why Choose Us
30+ years' experience
Fully licensed & insured
Complete roofing solutions
Superior knowledge & expertise
Family owned & operated
Adds many years of additional life for your roof
Creates a seamless, durable, and edge-to-edge membrane protection
Protects your roof and building against damaging weather, leaks, fire, insects, and vermin
Reflective –  up to 85% of sun's rays
Saves on annual air conditioning costs by up to 30%
Creates a lower environmental footprint for your building
Quality You Can Trust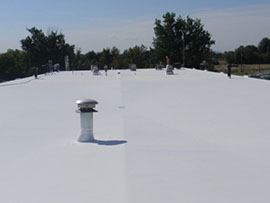 When you choose Woolbright's Roofing & Construction, Inc. you are choosing the best. We offer a full range of commercial roofing services including restoration, repair, installation and replacement services for a wide variety of roof types.
Woolbright's has more than 30 years of experience. We always use state of the art equipment and tools and we have what it takes to provide you with the highest level of service and workmanship. We bring these assets to every job:
30+ years in business
Licensed and insured
Certified technicians
Efficient, timely job completion with minimal disruption to clients' business operations
Energy-efficient solutions
Comprehensive commercial and industrial roofing solutions
If you are in need of a commercial roof coating system in or around Temecula, California, give Woolbright's a call today at 951-609-1818!