Coatings of Endurance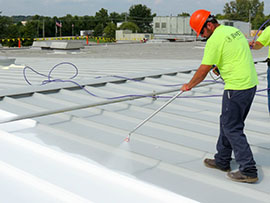 Roof coatings are a simple, cost-effective way to extend the life of your roof by many years, even decades. You can do this without replacing the roof, a process that involves high costs and disruptions in normal business operations.
Woolbright's Roofing & Construction, Inc. (WRC) takes pride in being a leading commercial roofing specialist in all of Southern California. Call us at 951-609-1818 for all kinds of commercial roof coatings in Perris, CA to extend the life of your roof as well as to leak-proof and weather-proof it.
Why Choose Us
30+ years' experience
Fully licensed & insured
Complete roofing solutions
Superior knowledge & expertise
Family owned & operated
For over 30 years, WRC has delivered a complete range of roofing services to different buildings in Perris, Corona, Homeland, March ARB, Moreno Valley, Nuevo, Quail Valley, San Jacinto, Temecula, Hemet, Lake Elsinore, Menifee, Murrieta, Riverside, Sun City, and Wildomar in California.
WRC's roofing personnel set high standards in workmanship and ensure that your roof lasts for ages by withstanding all the ravages of nature. Our objective is to be the best and most reliable roofing company in Southern California.
The Many Merits of Roof Coatings
Roof coatings offer the following benefits for commercial roofs:
Longer life
Resist leaks
Withstand high winds, thunderstorms, torrential rains, hurricanes, snow, hail and other forms of catastrophic weather
Lower HVAC expenses by preventing heat gain in summer and heat loss in winter
Aesthetic because they resist discoloration and fading
Prevent growth of vegetation whose roots can later eat into the membrane
Disallows formation of cracks, blisters, and tears
Applied properly, roof coatings can provide all these benefits. Call Woolbright's Roofing & Construction, Inc. (WRC) at 951-609-1818 and we will deliver all the merits of roof coatings for your commercial roof and restore it to its pristine condition.
Preventive & Proactive Approach
Roof coatings are very much in sync with the proactive approach at Woolbright's Roofing & Construction, Inc. (WRC). In fact, proactive roof management and maintenance is one of the services we provide.
WRC is certified A+ by the Better Business Bureau. As family owned and operated enterprise, we treat all your roofing issues as our own and work till you are completely satisfied.
If you notice ponding water, cracks, tears, or blisters on your commercial roof, do not hesitate to call us at 951-609-1818. We will fix these issues promptly and ensure that your roof endures for decades.