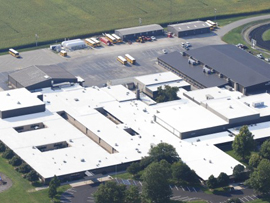 A roof is a huge capital investment for any business. Due to the expense of owning a building, it is probably very important that you get the most out of your money with your roofing asset. If you want to learn how our roof coating systems can continuously reinforce your roof and add years of life to it, give Woolbright's Roofing and Construction a call at (951) 609-1818.
For the past two decades, Woolbright's Roofing and Construction has been family owned and operated. Throughout the state of California, we have serviced numerous commercial roofs, especially in the Hemet, Murrieta, Ontario, Menifee, and Temecula areas. Let us show you the Woolbright roofing difference!
Roof Coatings – Affordable and Economical
Why Choose Us
30+ years' experience
Fully licensed & insured
Complete roofing solutions
Superior knowledge & expertise
Family owned & operated
Keeping your roof maintained and managed doesn't have to be so expensive! The lifespan altering benefits of roof coatings are an affordable way to preserve your roof. We recognize that your roofing asset is an investment and we want to aid you in getting the most out of your money. Woolbright's Roofing & Construction has the solutions for you.
Our success rate in our projects is something we are very proud of. We offer economically-friendly durable solutions to deliver to the masses. Roof coatings are not only a very affordable solution, but they also provide many amazing benefits. Here are a few of these benefits:
Prolongs your roof's lifespan
Up to 85% of UV rays reflected
Minimizes A/C costs by up to 30%
Forms water-tight seal
Decreases roof expenses and eliminates the need for disruptive tear-off procedures
All the Roofing Types – All the Time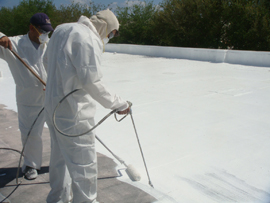 Regardless of what roofing type you have, roof coatings are a durable and amazing solution for your roofing asset. Whether its PVC, TPO, EPDM, or any other roofing type, Woolbright's Roofing and Construction will go out of our way to exceed your expectations. If you're based in Hemet, California, call us today at (951) 609-181 so we can show you the various options you have when working with Woolbright's Roofing and Construction.
When you work with us, you have a large collection of commercial roofing services at your disposal while also having the peace of mind knowing that a team of professionals is working diligently to repair your roofing asset. Contact Woolbright's Roofing and Construction for your professional roof evaluation at (951) 609-1818.
Professional Evaluations from Expert Staff Members
Customer satisfaction is our main priority at Woolbright's Roofing and Construction and we will go above and beyond to provide you with premium customer service. Let's start your roofing journey off right with a professional evaluation from one of our trained technicians. They'll provide you with an update on your roof's current condition and present you with a list of the solutions required to rejuvenate your roof's performance.
Don't wait – contact us today at (951) 609-1818 if you are in the Hemet, California area.