Nuevo Ca. Roofing Services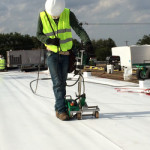 We provide commercial and  residential roof replacement for residents throughout Nuevo, California as well as the entire Southern California area. Whether you're in Nuevo, California or any other neighborhood, you can count on us to replace or repair your commercial or residential roof using high quality materials while providing expert workmanship and excellent customer service.
For a replacement, after safely removing your old roof, we thoroughly inspect the existing wood decking for integrity and signs of water damage. We then take extra care when installing each component of your roof to ensure your home is well-protected and looks great. As experts in the industry, we install only high-quality construction materials. We protect your house against wind-driven rain, and prevent leaks through judicious application of flashing and other best practices. Our maintenance and repair programs are second to none and we stand behind those like a new application!
We treat every roofing job with professionalism, and work hard to exceed our customer's expectations. Whether it is roofing for your Nuevo business, apartment complex, or a home roofing project, trust us to get the job done right and on time. You can expect us to approach every roofing job with dedication, honesty, and integrity.
As a homeowner, you know that your roof is one of the most important parts of your home. Our highly-skilled Nuevo, California roofing contractors use only the best construction materials when installing or repairing your new roof to ensure your home will be well protected for decades. Our team of Nuevo, California roofers can work with your to find a type of shingle that fits your aesthetic preferences, and is in line with your budget.
Quality is a Priority for Nuevo, California Roofs!
Woolbright's Roofing & Construction is all about providing the best quality roofs for our customers in Nuevo, California. Our customers come to us due to the high-quality materials and maintenance jobs we perform. Our roofs are guaranteed to last and our reputation proves this to be true.
If you're looking for a Moreno Valley roofing contractor and quality is important to your home or business, Woolbright's Roofing & Construction will give you exactly what you are looking for. Give us a call at (951) 609-1818 and speak to us right away about your project and what you need done.