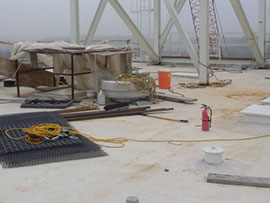 If you need flat roof repairs in the Corona, CA, area, call on the company that has been providing Southern California residents with topnotch roofing services for more than 30 years: Woolbright's Roofing & Construction.
We proudly serve customers throughout Southern California with a full array of expert roofing solutions, including flat roof repair. Give us a call today, (951) 609-1818, to request an estimate for your flat roof repair needs.
Flat Roof Failings
Flat roofs are a popular choice among building owners, particularly for commercial application, as they are a comparatively cost-effective roofing solution. It is also much easier to maintain a flat roof in comparison with a pitched roof and easier to install and maintain equipment like HVAC systems and solar panels, as a flat roof is easier to access.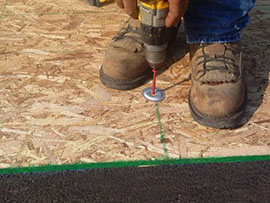 Flat roofs definitely have their shortcomings, however. For one thing, they are known to drain less efficiently than pitched roofs due to their lack of pitch, and this can lead to ponding water, or water that remains present on a roof for 48 hours or longer. Ponding water can lead to the breakdown of roofing materials, which can ultimately result in roof failure.
Flat roofs are also prone to developing leaks, especially along the roof seams, and stability can become an issue, as well—particularly in areas where heavy precipitation can create extra weight on the roof for long periods of time.
Expert Repair Services
When your flat roof develops problems, you can count on the team of experts at Woolbright's Roofing & Construction to set things right again. We will come to your aid with topnotch repair solutions to restore your roof to functionality and to address all leaks and other issues.
The Woolbright's team brings many benefits to the job site, including:
Why Choose Us
30+ years' experience
Fully licensed & insured
Complete roofing solutions
Superior knowledge & expertise
Family owned & operated
BBB A+ top-rated company
Fully licensed, bonded and insured
Family owned and operated
In business 30+ years
Fast, friendly and reliable service
Extended roof warranty options
Comprehensive roof maintenance plans
Thorough roof reports featuring photos and clear, concise drawings
And more!
Give us a call today, (951) 609-1818, for all your roofing needs great and small!