Without proper safety, commercial roof repairs can be hazardous.  Here at Woolbright's Roofing and Construction, we ensure that our safety procedures are practiced on each and every job.  It is our goal to maintain an injury free safety rating.  This helps us keep our roofing services affordable for our dedicated clients in Temecula, California and the surrounding areas.
The first step to our safety program is making sure our technicians understand the different roof types, then developing an effective way to treat repair solutions for them.  To learn about the proper way we will handle your metal roof repair, call our office today at 951-609-1818.
Established Commercial Roofing Company
Why Choose Us
30+ years' experience
Fully licensed & insured
Complete roofing solutions
Superior knowledge & expertise
Family owned & operated
Because the team at Woolbright's Roofing and Construction is known for our attention to detail and safety, it's no wonder so many clients turn to us for their metal roof repair needs.  We understand that there are numerous other contractors out there all vying for your business, so how do you know which you can trust?  Well, if you've called Woolbright's you know you're in good hands – but what sets one contractor above the others?
We've put together a list of qualities to avoid, and what to look for, when choosing the company to provide your metal roof repair services – or any other services your commercial roof may need.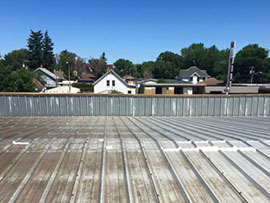 Avoid "storm chasers" at all costs. Roofing contractors that are not local or established companies have the reputation of coming in quickly after a storm, providing shoddy repairs or hurried replacements, then not being around down the road when problems develop.  Don't let his happen to you – at Woolbright's, we have been established in Temecula since 1988.  You can trust we will be here for you from start to finish, and long after your project is complete.
Avoid companies that require you pay for the entire project in full before the work has begun. We will never require payment in full for services that have not yet been provided.
Can't provide licensing and proof of insurance? Run for the hills!  This is a costly mistake that you don't want to make.  Trust our team and be sure to ask us for copies of all our licenses and insurance.  We're happy to provide them to you so you can rest assured that your roof is in the right hands.
High pressure salesman can make you feel forced or bullied into a decision. When it comes to your commercial roof you should take the time to do your homework and make sure you are hiring the right contractor for you.  Our team will never pressure you into starting a project that you are not ready for.
For a safe and trustworthy metal roof repair contractor, contact Woolbright's Roofing and Construction. Call today at 951-609-1818.