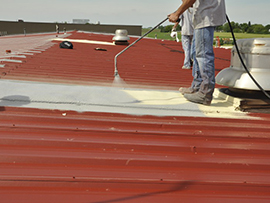 At Woolbright's Roofing and Construction we are a family owned and operated commercial roofing contractor with nearly 30 years of experience. We bring professionalism, superior materials and long-lasting roofing solutions to Hemet, California and all surrounding communities.
Don't trust your roof to a commercial roofing contractor that isn't up to the challenge of protecting your commercial roof. Call us right away at (951) 609-1818 for high quality metal roof repairs.
Metal Roof Repair Process
Why Choose Us
30+ years' experience
Fully licensed & insured
Complete roofing solutions
Superior knowledge & expertise
Family owned & operated
Roof Inspection – Every roofing project begins with a roof inspection. It allows our technicians to formulate and customize repairs for your roof.
Metal Roof Repair – Once work has commenced, our technicians will work efficiently so your repairs are provided in a timely manner that will not disrupt your business.
Quality Control – Our quality control procedures involve our project manager doing a final walk through to guarantee the provided repairs are up to par and our client is satisfied.
Maintenance Program – After metal roof repairs our associate will discuss our roof maintenance program with you. This program aides in ensuring that roofing issues are caught before they are allowed to grow and cause more damage.
The Metal Advantage
Commercial metals roofs hold a lot of appeal for building owners around our country. Who isn't interested in a long-lasting roof that requires very little maintenance? Key features of metal roofing include: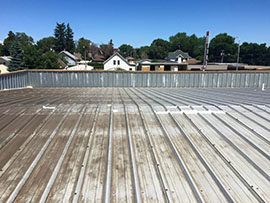 High impact and wind resistance
Longer lifespan with minimal maintenance requirements
Made with a minimum of 25% recycled materials
They are 100% recyclable
Excellent for all weather conditions
Variety of color and style options
Can be coated to help with lowering annual energy costs
If your metal roof is properly inspected to guarantee everything is in suitable working order, you will have a roof that will protect your structure for years and years to come. To learn more about the many benefits of metal for your Hemet, California commercial or industrial building, call our office today at (951) 609-1818.
Metal Roof Repair Estimate
For detailed metal roof repairs that will halt problems at their source, Woobright's Roofing and Construction is here. We take the time to listen to your concerns, inspect your roof and create a customized metal roof repair plan.
With Woolbright's Roofing and Construction, we know that your business needs to continue as normal so our metal roof repair associates will work tirelessly to provide necessary work. There is nothing to worry about when our team is on the job. To learn about our metal roof repair call us today at (951) 609-1818. We hope to hear from you soon!