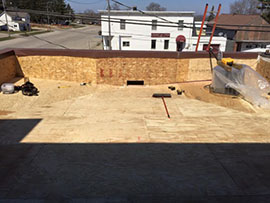 Owners of commercial and industrial buildings understand the need to protect their bottom line. If you wake up in the middle of the night worrying about needing a flat roof replacement, there's no need to panic because Woolbright's Roofing & Construction is here to help calm your fears.
If you are in need of a flat roof replacement in Temecula, California, or the surrounding area, you can count on Woolbright's Roofing & Construction. Our friendly experienced team members are waiting for your call at 951-609-1818!
No Need to Panic
At Woolbright's, we understand that replacing a roof can be difficult and expensive.  But don't worry, you are in good hands. A high-quality professional roofing company like Woolbright's can put your mind at ease. We will work with you – and your budget – to find out what exactly is wrong with your roof and what the best solution will be for you.
Restoration May Be the Answer
While you may need a roof replacement, there is a good chance that a high-quality roof coating system could be the answer you are looking for. Studies show that up to 80% of commercial roofs are replaced prematurely – and unnecessarily replacing your whole roof would be a big waste of time and money for your business. Call Woolbright's Roofing & Construction today to find out if your roof can be restored instead of replaced. Our number is 951-609-1818!
A flat roof restoration offers these advantages:
Why Choose Us
30+ years' experience
Fully licensed & insured
Complete roofing solutions
Superior knowledge & expertise
Family owned & operated
Extremely waterproof and durable
Completely seamless
Extends the life of your roof – with up to 18-year warranty
Energy Star Rated
Crack and blister resistant
85% UV reflectivity means up to 30% lower cooling costs
Minimal maintenance needed
Less expensive than replacing an entire flat roof
No disruption to the day-to-day operations of your business
Explore All of Your Options
There are many different choices when it comes to replacing a flat commercial roof. If the type of roof you have now is not working for you, don't worry, you have many other choices. The professionals at Woolbright's can discuss the benefits of different types of flat roofs, which include: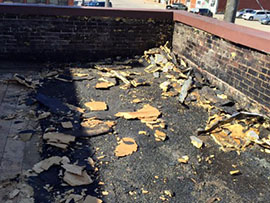 Modified bitumen
Built-up roof (BUR)
PVC
TPO
EPDM
Roof coating
And many more!
Quality and Experience You Can Trust
When you choose Woolbright's Roofing & Construction, Inc. you are choosing the best. We offer a full range of commercial roofing services including restoration, repair, installation and replacement services for a wide variety of roof types.
If you are in need of a flat roof replacement in or around Temecula, California, give Woolbright's a call today at 951-609-1818!