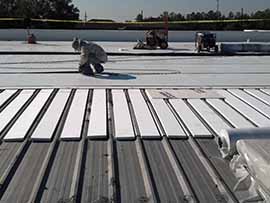 We understand the fear and stress that a building owner faces when they hear that they need a flat roof replacement.  The team at Woolbright's Roofing and Construction wants you to know that there's no need to panic.  When your roof is past the point of repair, hiring an experienced commercial roofing contractor can alleviate your stress and anxiety.
Call Woolbright's Roofing and Construction today at 951-609-1818 to schedule a professional assessment of your roof.  We will thoroughly inspect your facility and determine if you truly need a flat roof replacement.  If so, we will work with you to see if you were satisfied with your roof before it developed problems, then determine what is important to you in a new roof.  We will work diligently to devise a plan that will meet your expectations and budget criteria for your flat roof replacement.  Our goal is to guarantee you have a worry-free roof for years to come!
For Perris, California building owners, call us today at 951-609-1818.
Items to Consider
Why Choose Us
30+ years' experience
Fully licensed & insured
Complete roofing solutions
Superior knowledge & expertise
Family owned & operated
When the time comes to replace your commercial flat roof, many questions come to mind.  Before you contact a roofing contractor, ask yourself the following questions:
Was I satisfied with my roof before problems arose?
Was I constantly repairing roofing issues?
What is my timeline for this project?
What is my budget for this project?
Is Energy Efficiency important to my facility?
Once you are equipped with the answers to these questions, call Woolbright's Roofing and Construction today at 951-609-1818.  Our team is dedicated to providing the right flat roof replacement for your unique needs.
We have several flat roof replacement options available to building owners.  Some of these include: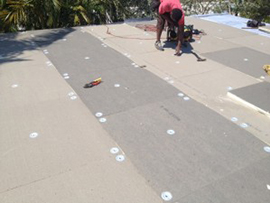 Built-Up
TPO
PVC
EPDM Rubber
Modified Bitumen
Metal
Roof Coatings
And more
We will take the time to address your concerns, thoroughly inspect your roof, and understand the future plans you have for your building.  We will make sure we install the perfect roof system specific to your facility needs.
Woolbright's Roofing and Construction understands that your roof is a costly investment and it is hard to spend that kind of money.  That is why we provide affordable roofing solutions to fit every need.  If you are located in or around Perris, California, call us today at 951-609-1818.  We'll help you get your roof back on the right track!