Does your flat or low-sloped facility have difficulties with its roofing protection? If you need professional flat roof replacement services from a reputable contractor, call Woolbright's Roofing & Construction. For 30+ years, our team has completed many roofing projects for building owners & managers in Murrieta and the surrounding communities.
Any roof replacement is a serious undertaking. It involves significant capital investment, and it could pose considerable disruption to building operations or business activity. After performing a professional analysis of your roof's needs, Woolbright's Roofing & Construction will help you determine the best solution for your needs. Then our roofing professionals will work hard to complete your project in an efficient manner while posing minimal disruption. For more information, call us today at (951) 609-1818.
Flat Roof Replacement Causes
There are a number of factors which can prompt the need for flat roof replacement services:
Why Choose Us
30+ years' experience
Fully licensed & insured
Complete roofing solutions
Superior knowledge & expertise
Family owned & operated
Ponding water
Storm damage
Cumulative weathering
Entrapped moisture or debris
Defects from UV exposure
Accelerated aging
And other issues
If your roof is having challenges with any of these factors or something else, we would glad to help. Don't wait for repair costs to become too expensive or for your roof to deteriorate beyond the point of recovery. Call us today and put our 30+ years of experience to work for your needs!
Flat Roof Replacement Experts
As a full-service company, Woolbright's Roofing & Construction specializes in a complete line of solutions to keep your facility well-secured. We perform roofing services on all types of roofing: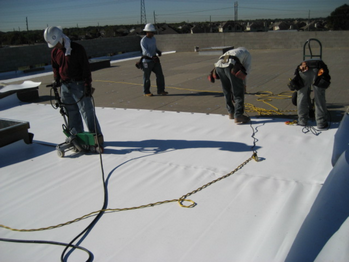 Modified bitumen
TPO
Built-up
Metal
PVC
EPDM
And others
Over 30+ years of business, our team has many valued clients take care of an array of roofing problems and difficulties. From repairs and maintenance to complete roofing systems, we've got you covered. Call us today to get started on bolstering your building with new, durable roof protection.
Flat Roof Replacement Estimate
Every roof is different, and as a result each one has its own requirements and specifications. Woolbright's Roofing & Construction understands the strengths, weaknesses, and needs of different roofing systems, having a long background in the construction industry. It would be our pleasure to discuss how we can serve you. Don't hesitate — call us today to request an appointment or for more information.
Contact us at 609-1818. We look forward to the possibility of earning your business and serving you!