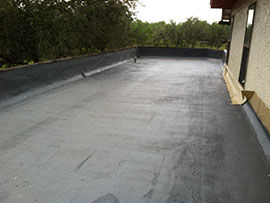 All roofing applications have an expected lifespan and at some point, repairs will no longer cut it. With Woolbright's Roofing and Construction, our team of technicians are flat roof replacement experts. After a comprehensive evaluation of your roof, our associates will discuss your roofing options and find the best solution for you. Whether longevity, energy efficiency or a cost-effective roof is what you're looking for, there are several roofing applications for you to choose from.
If you have a commercial or industrial property in Hemet, California please call us today. Let's get 2017 started on the right foot, with a new roof. You can reach us at (951) 609-1818.
Replacement Process
A tried, tested and true flat roof replacement process is what you will get when working with Woolbright's Roofing and Construction. With these simple steps you'll have new and worry-free roof.
Why Choose Us
30+ years' experience
Fully licensed & insured
Complete roofing solutions
Superior knowledge & expertise
Family owned & operated
The flat roof replacement process begins with the first phone call. We'll discuss your building, timeline restrictions and budget. This will greatly help us determine the right roofing application for your building.
Once a roof inspection has been scheduled our technicians will thoroughly evaluate your roofing system. Using the information from our inspection coupled with your roofing goals and requirements, we will discuss what we find to be the best flat roofing system for your structure.
You will be presented with a detailed estimate for your flat roof replacement. Our associate will use this time to answer any questions and make sure you understand the full scope of work.
When you flat roof replacement has commenced, our team will work quickly and efficiently to keep your business running as normally as possible.
After we have completed your flat roof replacement, we will work with you to create a maintenance plan to keep your roof performing at its best.
If you are located in or around Hemet, California, call our office today at (951) 609-1818 so we can begin the flat roof replacement process as soon as possible.
Establish a Roof Maintenance Plan Early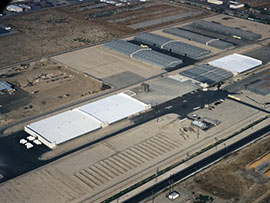 Let's take a proactive approach to your roofs care. By staying ahead of potential roofing troubles you are sure to get the most out of your investment. Woolbright's Roofing and Construction has a roof maintenance program that is part of our roof inspection services. Routinely inspecting your roof allows you to catch issues before they become costly repairs down the road.
For more information regarding our roof maintenance and roof inspection services please call our office at (951) 609-1818. We would be happy to discuss the programs we offer that will protect your roof.
Flat Roof Replacement Estimate
If you have a Hemet, California commercial or industrial property in need of our flat roof replacement services don't hesitate to call. We will inspect your roof and present you with a no-obligation flat roof replacement estimate today. Our associate will also use this time to discuss your roofing options to find the best solution for your building. Call us today at (951) 609-1818 – we look forward to hearing from you.