Pure Professionalism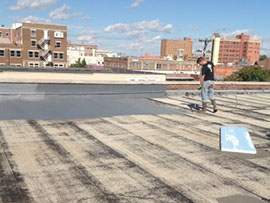 Armed with 30 years of successful experience, Woolbright's Roofing & Construction, Inc. (WRC) aims to be the most reliable and highest quality roofing company in Southern California. Call us today at 951-609-1818 for commercial flat roof repair in Perris, CA and experience pure expertise.
WRC specializes in Duro-Last Roof Systems for all flat roof solutions since 1997. Recognized as a Master Certified Contractor by Duro-Last for consistently executing its solutions with excellence, WRC holds over 100 commercial trouble-free labor and material warranties of Duro-Last Inc.
Duro-Last® is the world's largest maker of custom-fabricated, single-ply commercial roofing systems. Starting in the late 1970s, Duro-Last membranes now cover more than one billion square feet of roofing in North America. Many of the roofs covered back then are still operating as if new.
Call Us & Avoid Unplanned Roofing Expenditure
Why Choose Us
30+ years' experience
Fully licensed & insured
Complete roofing solutions
Superior knowledge & expertise
Family owned & operated
Flat roofs are not exactly flat. They have a slope of around 10 degrees. This is low compared to sloped roofs and is the main reason why flat roofs are prone to ponding water i.e. water not draining away from the roof 48 hours after it has stopped raining.
This water can get inside membranes and form steadily destructive cracks, blisters, and tears. It can also support the growth of vegetation whose roots eat into membranes. Once your commercial flat roof starts leaking, you can forget about getting full productivity from your employees and equipment in the building.
Don't wait for the roof to remind you that it needs repairs. Call Woolbright's Roofing & Construction, Inc. (WRC) today at 951-609-1818 and we will save you the expenses for unplanned roof repairs. Industry studies place such unplanned expenditure at 25% of all roof expenses.
WRC specializes in the repair of flat and low-sloping roofs made from:
Modified Bitumen
Built-Up
Metal
TPO
PVC
Rubber EPDM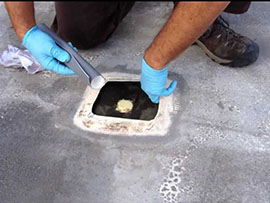 Commercial building owners choose flat roofs because cheaper to install, less expensive and simpler to maintain, and allow for more efficient utilization of the flat space over them, but to harness these inherent merits, you must hire a professional commercial roofing contractor.
WRC helps you gain these benefits while avoiding the pitfalls with its 30 years experience, A+ rating by the Better Business Bureau, extended warranties, and service that is reliable, fast, and friendly.
Top Contractor at Your Service!
Woolbright's Roofing & Construction, Inc. (WRC) is the top-rated commercial roofing contractor in Murrieta, Menifee, Temecula, Riverside County, San Diego and everywhere in between for over 20 years now. Since 1988, we have efficiently serviced the Temecula Valley and all of Southern California.
No job is too big or too small for us. Feel free to call us at 951-609-1818 and all your roofing responsibilities will be ours!