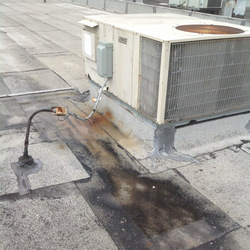 Does your flat or low-sloped facility struggle with roof leaks? Or perhaps it has other issues. When you need a professional contractor to handle your roof's challenges, call Woolbright's Roofing & Construction. For 30+ years, we have helped commercial & industrial clients address a wide, diverse array of flat roof repair needs.
According to industry statistics, 25% of all roofing dollars go to unplanned repairs. In other words, flat roof repair costs can add up quickly. Don't let your roof approach reduced performance or failure early — let us help you prolong your roof's service life expectancy and maximize your investment! Call us today at (951) 609-1818 for more information.
Common Flat Roofing Issues
Flat roofs are a frequent component for commercial facilities because of their architectural benefits, their tendency to be economical, and their occupation of less space than roofs with greater pitch. However, they can be overcome by a number of problems over time. Some common causes of flat roof repair needs are: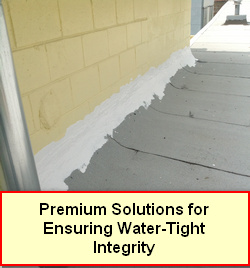 Ponding water
Cumulative weathering or aging
Straining effects of UV damage
Moisture or debris entrapped under covering
Membrane defects (e.g., shrinkage, poor adhesion, to name a couple)
Storm damage
And others
These factors and more can leave a heavy toll on a flat roof. With 30+ years of experience, Woolbright's Roofing offers comprehensive solutions. Our roof maintenance & roof asset management programs are designed to keep your roof in serviceable condition. These services are cost-efficient solutions especially for clients with multiple building assets under management in their portfolio. To discuss how they help lower costly expenses in the future, call us!
Flat Roof Repair Solutions
Why Choose Us
30+ years' experience
Fully licensed & insured
Complete roofing solutions
Superior knowledge & expertise
Family owned & operated
Woolbright's Roofing & Construction specializes in repair services for many types of flat and low-sloped roofing:
Modified bitumen
TPO
Built-up
PVC
Metal
EPDM
You can count on our painstaking measures to restore and maintain your roof's service life. Don't settle for ongoing headaches and costs that add up. Call us!
Flat Roof Repair Service
Woolbright's Roofing & Construction also offers expert leak detection services for roofing leaks that are hard to locate. Our highly skilled technicians will use state-of-the-art equipment to locate the leak source(s), isolate it or them, and fix them with premium materials.
You can count on our 30+ years of reputation, superior knowledge, and strong fieldwork expertise to extend your flat roof's lifespan. Don't hesitate, call us today to get started.
You can reach us at (951) 609-1818 for more information. We look forward to helping you restore your flat roof's performance and functionality!