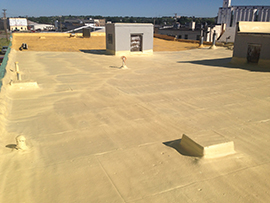 Is your flat or low-sloped building asset experiencing roof leaks? Is it experiencing any other frustrating issues? If so, you need a contractor who is professional and can handle any roofing task, and that contract is Woolbright's Roofing & Construction. With over two decades of hands-on roofing experience, we have assisted numerous commercial and industrial clients handle a large variety of flat roof repair needs.
Industry experts claim that 25% of all roofing costs go to unplanned repairs. This means that flat roof repair costs can snowball easily. Don't let your roof become compromised – let us help! We can extenend your roof's lifespan and increase your roofing investment. Call us today at (951) 609-1818 for more information.
Common Flat Roofing Issues
Flat roofs have a lot of advantages and benefits for commercial buildings. However, like any roofing type, they experience a variety of problems over time. Here a few of the common flat roof issues:
Why Choose Us
30+ years' experience
Fully licensed & insured
Complete roofing solutions
Superior knowledge & expertise
Family owned & operated
Ponding water
Cumulative weathering or aging
Straining effects of UV damage
Moisture or debris entrapped under covering
Membrane defects like shrinkage
Storm damage
And others
These issues can leave a big impact on your flat roof. With 30+ years of field work, Woolbright's Roofing provides premium solutions. Our roof maintenance and roof asset management programs are aimed to maintain your roof in high-quality condition. These services are economically-friendly solutions and efficient. To learn more about our services, call us!
Flat Roof Repair Solutions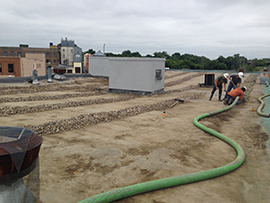 Woolbright's Roofing & Construction prioritizes in repair services for a number of types of flat and low-sloped roofs:
Modified bitumen
TPO
Built-up
PVC
Metal
EPDM
You can rely on our goal for daily excellence to restore and maintain your roof's performance. Don't settle for mediocre service and costly roof repairs! Call us!
Flat Roof Repair Service
We also provide professional leak detection services for stubborn roof leaks. Our specialists will trace the leaks to their source, and address the situation immediately with premium materials.
You can rely on our two decades of experience, knowledge, and methods to extend your flat roof's life. Don't wait, call us today to get started.
Schedule a No Cost Roof Inspection
Call us today at (951) 609-1818 to set up a time for one of our skilled technicians to come and inspect your roofing unit. After a thorough evaluation our specialist will present to you a detailed description of your assets current condition. We will then review a list of viable solutions to get your roof back in proper working order. Don't hesitate, small issues can quickly become large costly headaches.
You can reach us at (951) 609-1818 for more information. We look forward assisting you restore your flat roof's performance!