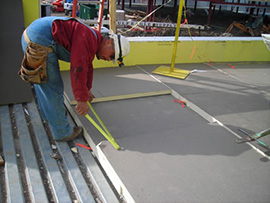 Woolbright's Roofing and Construction was established over 30 Years ago in southern California. Over those 30+ years we have earned a solid reputation as a respected commercial roofing contractor. This doesn't happen by accident. We have committed ourselves to providing quality commercial roofing services while maintaining a professional and respectful relationship with our clients.
If you are located in Menifee, California we hope to hear from you soon. Let us show you the customer service we are known for! You can reach us at (951) 609-1818.
Customized Roofing Solutions
Every commercial roof is different and as such, requires care that is specific to it. This is why every project we take on begins with a detailed roof inspection. Our areas of expertise include a wide range of roofing applications, and our dedicated technicians are fully trained at properly treating them.
Why Choose Us
30+ years' experience
Fully licensed & insured
Complete roofing solutions
Superior knowledge & expertise
Family owned & operated
A few of the services we provide are:
Leak detection and repair
Troubleshooting
Waterproofing
Installation
Replacement
Coatings and Cool Roofs
Maintenance
Inspections
Woolbright's Roofing and Construction, Inc. is a leader in roofing industry. If you are in Menifee, California we would love to hear from you. We know that you and your roof could directly benefit from one or more of our professional commercial roofing services. Call us today at (951) 609-1818 so we can provide you with a no-obligation roof evaluation.
The Professional Difference
There are several benefits that come with hiring a professional commercial roofing company. Don't make the all too common costly mistake of hiring someone that is not an expert. With Woolbright's Roofing and Construction you will receive: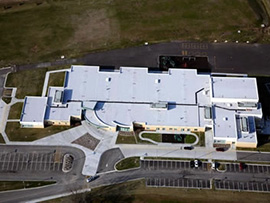 Detailed records of service
A company that is fully licensed and insured
Formally trained technicians
Labor and material warranties
Even though we have grown to become one of the most respected roofing contractors in the Menifee, California area, we have been able to maintain our commitment quality customer service. Call us today at (951) 609-1818 so we can turn you into another satisfied customer.
We Will Be There for You
Woolbright's Roofing and Construction, Inc. guarantees to provide you with a new or renovated roofing system that is water-tight and worry-free. We deliver peace of mind by employing personnel and technicians that have decades of experience in the roofing industry. It is our belief that when we go the extra mile for each customer it truly makes a difference.
Let us be the professional company that you turn to for any commercial roofing services you are in need of. Call us today at (951) 609-1818 so we can provide you with an in depth, all-points roof inspection.