The Professional Edge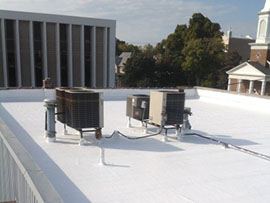 When was the last time you checked the condition of your commercial roof? And did a professional conduct the inspection? Minor flaws and defects are invisible to the untrained, eye but cannot escape the seasoned eye of a specialist.  Your commercial roof is a very important asset. It protects your employees, tenants, equipment, and inventory against harmful weather, vermin, and insects. It also ensures that your business runs uninterrupted and you keep making money in all seasons and all types of weather.
If you feel your commercial roof in Hemet, CA needs to be checked, repaired, or maintained, call Woolbright's Roofing & Construction, Inc. at 951-609-1818. We will take the guesswork and speculation out of your commercial roof and present the complete, long-term picture of your roof.
Woolbright's Roofing & Construction, Inc. has been a top-rated commercial roofing contractor in Murrieta, Menifee, Temecula, Riverside County, San Diego and everywhere in between for over 20 years. We will take care of your roof and you can focus on your business. That simple!
Services at Woolbright's Roofing & Construction, Inc.
As a full-service roofing and construction contracting company, Woolbright's Roofing & Construction, Inc. has successfully dealt with a whole range of challenging projects for roof repair, maintenance, and replacement over the years. No job is too big or too small for us.
Woolbright's Roofing & Construction, Inc. offers the following roofing services for commercial roofs of existing and new buildings:
Why Choose Us
30+ years' experience
Fully licensed & insured
Complete roofing solutions
Superior knowledge & expertise
Family owned & operated
Complete Roof Inspection
Proactive Roof Management and Maintenance
Roof Repairs
New Roof and Re-Roof Installation
Deck Building and Waterproofing
Insulation
Solar Mount Installation
Attic Venting
Infrared Moisture Detection
Roof Asset Value Assessment and Condition Tracking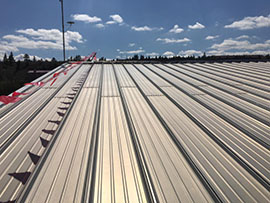 Being a family owned and operated company, we approach all projects with high levels of professionalism and great attention to detail. Our services are quick, friendly, reliable, and delivered with a personal touch.
Fully licensed, insured, and bonded, Woolbright's Roofing & Construction, Inc. provides expert opinions and recommendations along with detailed roof reports, photos, and relevant drawings. Give us a call at 951-609-1818 and you will understand why we hold the professional edge.
Why Hire Professionals?
Commercial roofing service is a big business in the United States. Many times, building owners and operators escalate their long-term roofing expenses by saving in the short term by following the suggestions of amateur commercial roofing service providers.  Don't let the rookies wreak havoc on your commercial roof. Such flawed advice is often the cause for premature roof replacements and building owners in the country spend $1 billion a year on such replacements.
Call Woolbright's Roofing & Construction, Inc. at 951-609-1818 for honest and straight forward advice on all commercial roofing issues. We will ensure that you no longer have to worry about your roof!