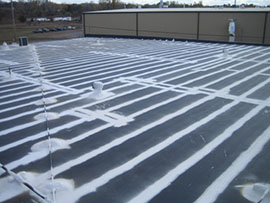 What exactly does a commercial roofing contractor do?  Well, we can't speak for other roofing contractors, but here at Woolbright's Roofing and Construction we proudly provide a full-range of service for all commercial roofing substrates.  Metal Roof?  We've got you covered.  EPDM, TPO, PVC – we've got you covered too!  No matter what type of roof you have you can trust our team to implement the correct repairs, timely replacements, or restoration services.  We also have inspection and maintenance programs to make sure you get the longest life possible out of your roof.  To learn more about the many services we offer, call our team today at 951-609-1818.
Why Work with Woolbright's?
Why Choose Us
30+ years' experience
Fully licensed & insured
Complete roofing solutions
Superior knowledge & expertise
Family owned & operated
When you hire Woolbright's Roofing and Construction you aren't just hiring another commercial roofing contractor.  You're hiring a company that is a proud member of the Temecula, California community and that goes above and beyond for our loyal clients.
With over 30 years of construction expertise, we won't settle for anything less that the best.  We only hire the best technicians, provide the best repairs and restoration services, and work with the best products available on the market.
When you work with our team, you are working with a company that is endorsed through the Choice Roof Contractor Group.  This group has strict standards for their members and we are proud to say we have met and exceeded all expectations.  To learn more about our company and our membership with the Choice Roof Contractor Group, give us a call at 951-609-1818.
Commercial Roofing Contractor You Know and Trust
Woolbright's Roofing and Construction is known for our honesty, quality workmanship, and reliability.  Our company was founded on these principles which we always uphold.  With over three decades of industry experience, we believe our longevity in the industry speaks for itself.  Our expert roofing solutions are tried, tested and true, but that doesn't mean we've stopped learning.  We continue to stay on top of the latest roofing techniques to continually improve the services we offer our clients.
When you're in need of a professional commercial roofing contractor, let the Woolbright's Roofing and Construction team be the contractor you turn to.  Call our office today at 951-609-1818 so we can discuss how to get your roof on the right track.
We hope to add you to our ever-growing list of satisfied customers.