Are you looking for a reputable and professional commercial roofing contractor to come and fix your roofing issues? Is your facility located in or around Murrieta, California? If so, Woolbright's Roofing & Construction is here to help. With over 30 Years of experience, we have the knowledge, expertise, and resources needed to help with any roofing need you may have.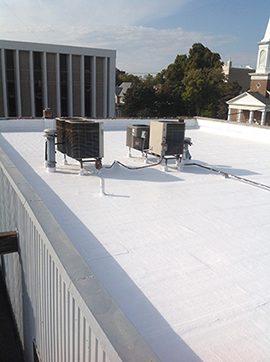 Roofing projects can be very costly in the long term if a professional roofing contractor is not hired. So how can you find the best contractor for the job? Here are some questions that will help you decide who is best fit to work on your roof:
How much experience does the contractor have?
What is their reputation in the local industry?
How long have they been in business?
Can the contractor provide testimonials from prior customers?
Is the contractor certified by their manufacturer of choice?
What is the contractor's status with their manufacturer of choice?
Do the personnel for this contractor strive to improve their training and education? If so, how?
To start with a professional, on-site roof assessment and estimate, call us today at (951) 609-1818. One of our team members will come and inspect your roof at a convenient time, and answer any questions or concerns weighing on your mind.
Experienced Commercial Roofing Contractor
Woolbright's Roofing & Construction aims for excellent service in everything we do. As a result, we have built a successful team over time. Some of the advantages we bring include: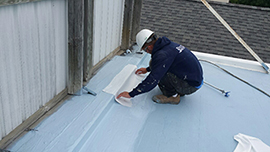 30+ years in the business
Licensed & insured contractor
Complete line of premium roofing solutions
A team built with superior knowledge & expertise
High-quality service to all of our customers
Family owned & operated business
Whether you need roof installation, repair, restoration, installation, or replacement services, the expert team here can help with any of your roofing needs. And if your goal is to maximize the potential of your roof's lifespan and increase the value of your roofing investment, Woolbright's Roofing & Construction offers customized maintenance programs as well. Call us today!
Commercial Roofing Contractor Value
Why Choose Us
30+ years' experience
Fully licensed & insured
Complete roofing solutions
Superior knowledge & expertise
Family owned & operated
Customer satisfaction is the top priority for Woolbright's Roofing & Construction. Because we have stayed true to this, we have earned accolades such as an A+ rating as an Accredited BBB Member.
Woolbright's Roofing & Construction has been providing top-quality service and solutions to our customers for over 30 Years, and we would be happy to serve you. We are a top selection for any roofing need you have, and we are ready to help you. Give us a call today to get started!
Roofing Contractor Estimate
Whatever roofing problem you have, we have the solution. When you give Woolbright's Roofing & Construction a call, one of our specialists will come and visit your facility to perform a thorough evaluation of your roof. After this is done, we can provide you with the best solutions for your roof's unique needs.
Don't hesitate – call us today at (951) 609-1818. We look forward to providing you the premium solutions you need!