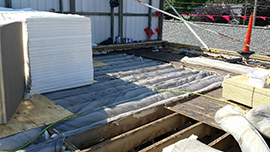 Are you in the process of looking for a reputable commercial roofing company? Is your facility located in or around Murrieta, California? If so, Woolbright's Roofing & Construction may be the commercial roofing company for you. With over two decades of hands-on roofing experience, we have the resources and roofing knowledge to make your roofing project a huge success.
Roofing projects can become expensive if an amateur roofing contractor is hired. The questions is how do you find the right contractor? Here are a few questions you should ask every commercial roofing company:
Why Choose Us
30+ years' experience
Fully licensed & insured
Complete roofing solutions
Superior knowledge & expertise
Family owned & operated
How much experience does the roofing company have?
What is their reputation in the local industry?
How long have they been in business?
Can the company provide testimonials from prior customers?
Is the company certified by their manufacturers of choice?
What is the contractor's status with their manufacturer of choice?
Do the personnel for this company strive to improve their training and education? If so, how?
To request a professional, on-site roof evaluation and estimate, call us today at (951) 609-1818. One of our technicians will visit your location, survey your roof, and answer any questions or concerns you may have.
Experienced Commercial Roofing Company
Woolbright's Roofing & Construction strives for complete customer satisfaction in every service we provide. As a result, we have created a reliable team over time. Some of the benefits include: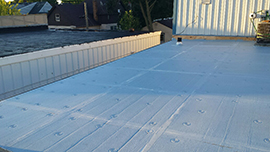 30+ years in the business
Licensed and insured contractor
Complete array of premium roofing solutions
Specialists equipped with years of knowledge & techniques
High-quality service to each customer
Family owned and operated business
No matter the repair needed (roof installation, repair, restoration, or replacement), our team of experts is here to help. Also, if your goal is to increase your roof's life expectancy and maximize your roofing investment, Woolbright's Roofing & Construction offers tailored maintenance programs as well. Call us today!
Commercial Roofing Company Value
Our main goal at Woolbright's Roofing & Construction is complete customer satisfaction. Due to our dedication to this goal, we have earned titles such as an A+ rating as an Accredited BBB Member.
Woolbright's Roofing & Construction has been offering premium service and solutions to customers for over two decades, and we are ready to help you to! We have the solutions for all your roof needs. Contact us today to get started!
Roofing Company Estimate
Regardless of the repair needed, we have the solution for it. When you contact Woolbright's Roofing & Construction, one of our team members will visit your location and thoroughly inspect your roof. Afterward, we will provide you with the most suitable options for your roof's special needs.
Don't wait – call us today at (951) 609-1818. We are excited to help you!