Selecting the Best Commercial Roofing Company?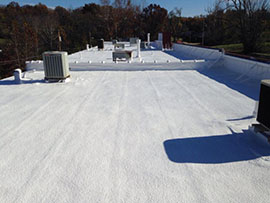 If you search for commercial roofing companies Hemet, CA on Google, you will get the website links of plentiful companies. Most of these will offer similar services and an identical work ethic. The choice is difficult to say the least.
Experience truly is the best teacher and there is no customer like a return customer. Want to separate the men from the boys? Look for experience, number of return customers, independent ratings, range of services, employee training levels, offered warranties, licenses, and insurance.
Woolbright's Roofing & Construction, Inc. has been a leading provider of full-scale commercial roofing services throughout Southern California for over 20 years. For any queries on commercial roofing in Hemet, CA, give us a call at 951-609-1818. You will immediately understand why we are a reputed provider of quick, friendly, and reliable service.   As members of the nationwide Choice Roof Contractor Group we offer a lifetime service guarantee on all our new services. This helps you with durable and sturdy roofs, lower and more controlled roofing expenses, and documented roof history for insurance claims.
Why Woolbright's Roofing & Construction, Inc.?
Woolbright's Roofing offers everything that you look for in a commercial roofing company:
Why Choose Us
30+ years' experience
Fully licensed & insured
Complete roofing solutions
Superior knowledge & expertise
Family owned & operated
20+ Years Experience
Friendly, Quick, and Reliable Service
BBB A+ Top Rated Company
Extended Roof Warranties
Complete Annual Roof Maintenance Plan
Family Owned and Operated
Detailed Roof Reports with Photos and a Clear Concise Drawing
Expert Opinions and Recommendations
Fully Licensed, Bonded, and Insured
Call us at 951-609-1818 and avail the full range of roofing services for commercial, residential, and new construction: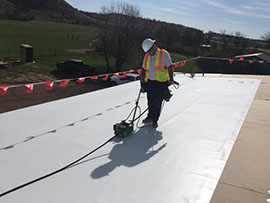 Total Roof Inspection
Roof Repairs
Proactive Roof Management and Maintenance
New Roof and Re-Roof Installation
Roof Asset Value Assessment and Condition Tracking
Insulation
Solar Mount Installation
Deck Building and Waterproofing
Attic Venting
Infrared Moisture Detection
Woolbright's Considerate & Thorough Services
As a company that has provided full roofing services in the Temecula Valley and throughout Southern California since 1988, we understand the supreme importance of inspiring confidence in customers before discussing the technicalities.
Call us at 951-609-1818 and get to experience first-hand how we put you at ease and takeover all your commercial roofing responsibilities.